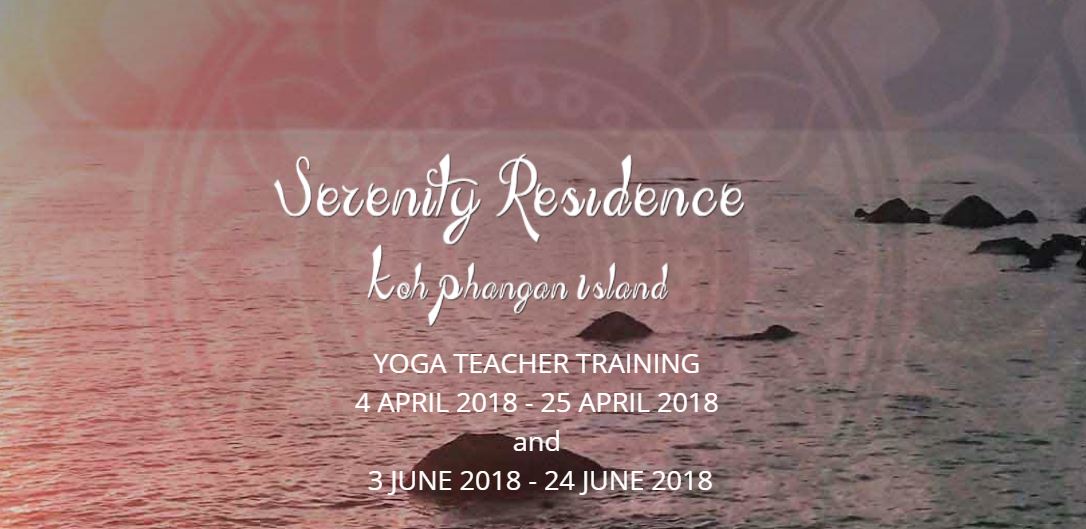 04-25 APR 2018
And
03 -24  JUNE 2018
200 Hours
Serenity Yoga Teacher Training 
The three-week Serenity Yoga Teacher Training course is registered with Yoga Alliance and it provides a great foundation for refining your skills in the practice and art of teaching yoga. Situated at a stunning location with views of the turquoise-blue ocean, Serenity Yoga offers an all-inclusive program that goes to the depths of yoga and leads you on your transformational journey.
You will be challenged and stretched in the best of ways, for your emergence as a dedicated yoga teacher/practitioner to truly serve the greater whole of the world with integrity, understanding and love. Serenity Yoga offers the sublimed and systematic understanding and practice of yoga through asana, pranayama, bandha, meditation, mudra and mantra with great amount of time delivered to the lectures or discussions of anatomy, philosophy, and methodology with supportive and radiant experienced teachers. You will be given all the tools necessary to start teaching yoga based on the tradition of Ashtanga, Vinyasa and Hatha Yoga upon the completion of the program. You will be also introduced to Ayurveda, Thai Yoga massage, and different breathwork techniques. Join us for the journey into the depth of yoga as an embodied path of integrated consciousness.
APPLY NOW
Price Starts : 2115€
Serenity Yoga Teacher Training Thailand Program Overview

Ground to Grow
Serenity Yoga teacher training course provides a strong foundation for dedicated yogis to develop steady practice with integrated holistic approach of Vinyasa = movement + breath with great energy. Focuses are not only on the intelligent understanding of biomechanics and physical alignment, but it also expands to energetic, psychological, and spiritual benefits of yoga. Strength or Flexibility is definitely one of the amazing benefits of dedicated practice, but Serenity Yoga believes that Yoga is much more than physical body, and what means most is skillful action towards harmony and peace in one's being in life. This Yoga Alliance certified intensive program is packed with insightful contents, and is designed to empower you as a leader of true change. Root in what you really are and strengthen your whole being as a vessel to serve with love.
Who is this training for?
This training provides the foundation to practice and teach Yoga, and it also supports personal transformation through understanding the way of Yoga in all areas in life. It is for those who wish to teach and share their passions with the world, and also for those who wish to deepen their study and practiceinto the depth and beauty of Yoga. The program is designed to bringa wealth of knowledge and direct experience of authentic practice that are systematically structured with gradual progress, and it is dedicated to bring up every teacher's unique gifts, heart, and voice.From Day 1, you will be given all the tools necessary to become a skillful and successful teacher of yoga. The program is intensively designed over 3 weeks, and we welcome all dedicated students of Yoga with their willingness to discover, explore and grow. Upon the completion of the program, you will be given the full certification that will allow you to register with Yoga Alliance. Registration with YA establishes your qualifications and credibility and is a universal, portable measure of your capabilities recognized around the world.
Content
Based on the traditional teachings of AshtangaVinyasa, Hatha and Tantra Yoga, this 3-week training offers in-depth teachings in: Asana, Pranayama, Meditation, Mantra, Mudra, Bandha, Yoga Anatomy, Yoga Philosophy, Yogic Lifestyle, Ayurveda, Thai Yoga Massage, Art of Teaching, Art of Adjustment, Kirtan, Voice Training, Shadow Work, Therapeutic Breathwork and much more. Our approach to Yoga Practice is all-embracing; focuses are not only on physical alignment, but also on breath and energetic flow within with present moment awareness, subtle body and traditional Chakra system. You will learn how to practice and teach with heart. The course will provide a platform for your true evolution and transformation.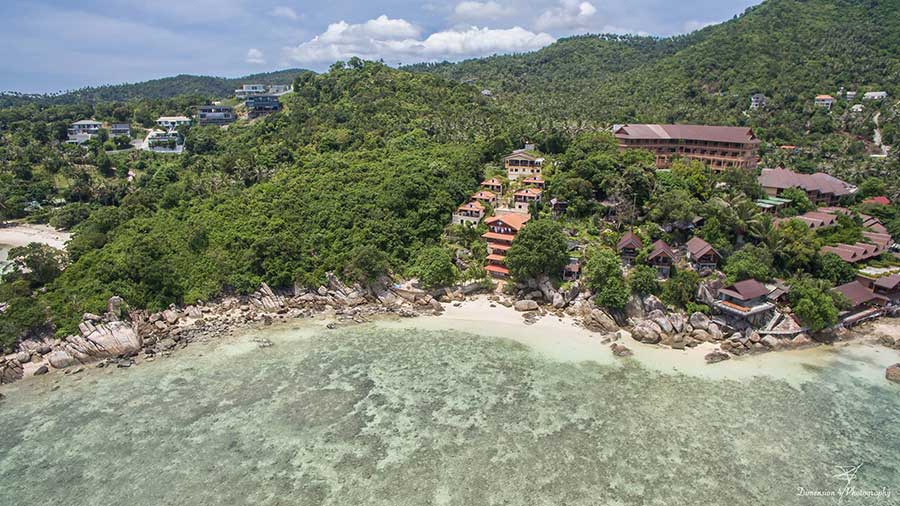 The Curriculum
Sankalpa
AshtangaVinyasa Yoga
Vinyasa Flow Yoga
Hatha Yoga
Restorative Yin Flow Yoga
Asana
Pranayama
Bandha&Kriya
Meditation
Yoga Nidra
Mudra
Mantra
Kirtan and Voice Work
Physical & Energetic Anatomy
Introduction to Ayurveda and Yogic Diet
Yogic Lifestyle & Ethics
Yoga History & Philosophy
Introduction to Sanskrit
Art of Teaching
Alignment & Adjustment
Thai Yoga Massage Workshop
Practicum
Business of Yoga
Photo session
"Yoga is the perfect opportunity to be curious about who you are" – Jason Crandell

Details of Curriculum
Asana
Daily study and practice of postures, biomechanics and alignment, common errors, adjustment, energetic and health benefits, modifications, the use of props and effective voicing cues for teaching. Asana enhances our health and well-being, brings more awareness to different parts of the body, creates more freedom space within and generates more life force. Body is a temple for the soul's expression. The course is designed to deepen your practice to the whole new level of understanding. Serenity Yoga offers an approach of natural unfolding, presence, witness, effortless effort, rather than forceful, pushy, goal-oriented way of practice. The morning sadhana incorporates more firely practice of Ashtanga or Vinyasa, and occasional evening asana class incorporates more meditative and gentle practice of Hatha or Restorative Yin flow.
Pranayama
We can survive without food and water for some days, but we cannot survive without breath for more than a few minutes. Pranayama is a breath control technique aiming at expansion of life force energy within one's own body. Breath is a bridge between conscious and subconscious mind. It is a key for transformation and healing. You will learn different Pranayama techniques such as NadiShodana, Kapalabhati, Ujjayi, Bhramari, Shitali/Sitkarin, Simha.
Meditation
Daily meditation practice refines the self-awareness and cultivates the lucidity of present moment. You will learn to still the movement of the mind and root your awareness in the heart through Spiritual Heart Meditation of Jnana Yoga. Other meditation techniques include but are not limited to: Metta (loving-kindness) meditation, Counting of the Breath, Walking Meditation and Yoga Nidra.
Mudra
Mudras are seals of subtle energy that have a profound effect on the physical and energetic body. You will learn different hand mudras such as Jnana, Dhyana, Vishnu, Ganesha, Prana, Apana, Padma, Abhaya, Hridaya, Abhaya-Hridaya, etc.
Mantra
Mantra is divine speech and sound vibration that illumines the mind and blossoms the heart. You will learn different aspects of the Divine and what each mantra represents, along with study of mythology to deepen your understanding in symbolism. There will be a weekly Kirtan (call-and-response style chanting with music) during the program. Expect to have a lot of fun and a profound heart opening!
Bandha
Introduction to main 3 bandhas of Mula, Uddhiyana and Jalandhala. You will learn how to practice them as a part of Pranayama practice, also how to incorporate them into vinyasa practice setting.
Shatkarma
You will be introduced to different yogic purification techniques such as Yogic morning cleansing routine, AgnisaraDhauti, fasting, Trataka and other Yogic self-cleansing techniques.
Yoga Anatomy
The anatomy of physical movement and study of basic mechanism of skeletal, muscular, digestive, respiratory, cardiovascular, and nervous systems. You will also study the anatomy of subtle energetic body such as panchakosha (5 bodies), nadis, chakras, vayus and ojas (sexual energy).
Introduction to Ayurveda
Ayurveda is an ancient Indian wisdom of life science and tool to understand yourself and others. You will study PanchaMahaBhuta-s (5 elements), doshas, gunas, and prana and also will discover your own dosha/typology. You will be able to apply the knowledge of Ayurveda into your diet and daily life.
Yoga Philosophy and Ethics
Discussions on the philosophy topics include:
Yoga History – from Vedic to modern time
Study of Traditional Yogic texts such as Yoga Sutras of Patanjali, Upanishads, Bhagavad Gita
Study of different philosophical views – Sankhya, Classical Yoga, Tantra, Advaita
Study of 4 Paths of Yoga – Jnana, Karma, Raja, Bhakti
Yogic Lifestyle, diet and nutrition
In-depth discussions on each 5 Yama-s and Niyama-s to how to apply them into daily life
Different aspects of deities and symbolism, mythology, Ramayana, Mahabharata
The concept of Dharma, Sankalpa, Seva, and Hridaya.
Art of Teaching
This includes: articulation of themes and words, voicing techniques with effective cues, intelligent and creative sequencing, holding space, communication skills, the art of adjustments, demonstrations and observation. You will learn how to teach with heart, presence, confidence and integrity with skillful teaching methodology. There will be a plenty of time to practice teaching; starting from one-on-one to small group, and gradually extended to lead the entire 75-minute class. The course is designed to support you with gradual progression in teaching with joy and clear understanding. There will be a discussion on business in Yoga where you will learn how to begin your career as a yoga teacher with integrity and heart.
Thai Yoga Massage
Touch is an expression of love. You will learn the short massage sequence which you can offer to your students, friends or family. Thai Yoga Massage balances the energy flow, relieves muscle pain, and promotes relaxation. You will learn how to apply pressure with your hands using the proper body posture and body weight. It will support you to develop the sense of touch with confidence that will help you to become more familiar with asana adjustment for students.
Therapeutic Breathwork for Transformation
Breathwork is a simple yet powerful practice to release stuck emotions and past conditioning/trauma, reset from daily stress and connect with inner wisdom. We will let go whatever no longer that doesn't serve for us, and open ourselves to LOVE that we are to truly serve as a teacher of yoga.
"To perform every action artfully is yoga" – Swami Kripaivananda
Daily schedule
7:00 – 10:00
Morning Sadhana (Meditation, Pranayama, Asana, Mudra, and Mantra)
10:00 – 11:30
Breakfast
11:30 – 13:30
Asana Clinic (breakdown of the asana sequence, adjustment, teaching methodology)
13:30 – 16:00
Lunch and break(swimming at private beach, reading, self-study, massage, etc)
16:00 – 18:00
Lecture (Philosophy, Anatomy, Introduction to Ayurveda, etc)
18:00 – 19:30
Afternoon Practice (Restorative Yin Flow practice, Yoga Nidra, Study of the key poses, Teaching Practice, Meditation,Kirtan, Thai Yoga Massage, etc)
19:30 – 20:30
Dinner
20:30 – 22:00
Yoga Movie Night (once a week) and other evening special events
This is a sample schedule and the topic of the class varies from day to day. The classes are 6 days on, and one day off. As the program is designed intensively to meet the 200hr YTT requirements over 3 weeks, keeping the focus and commitment to the study is essential. Every step we take is an important part of the whole journey. You are encouraged to look, taste, and reflect within yourself to truly embody the teachings.
Prerequisites
You need to have been practicing Yoga (Ashtanga, Vinyasa, or Hatha) for a minimum of one year, although flexibility, strength or ability to stand on the head etc. is NOT a requirement for this immersion. In fact, we encourage people with all body types and those physical challenges to consider this program. There is always a suitable way to practice for everyone and Yoga is beyond the capability of physical body, and your willingness to learn and go deeper is the most important element in this training. We are truly dedicated to transmit the essence of Yoga. The struggles and challenges you will face through the course of this training will only make you a better teacher and student. And please know that you will be always supported by the team of loving teachers and the group of like-minded friends, and the experience of the whole journey will forever hold a special place in your heart.
Teachers
Akari Tamura
Yoga Alliance E-RYT 200 (Ashtanga Yoga, Vinyasa Yoga, Hatha Yoga)
Akari, originally from Japan, has been teaching and inspiring countless yogis internationally, leading students into true transformation through the ancient wisdom of Yoga. Her self-enquiry began in 2006 when she was traveling in Africa and SE Asia by volunteering and helping people in need, and soon after she discovered the Yoga System. Since then Yoga has been serving her in all the ways in life, and she is absolutely dedicated to sharing her passion and love towards freedom of the heart through various Yogic practice. She has devoted years of study in traditional Hatha Yoga, Tantra Yoga, Tibetan Buddhism and AshtangaVinyasa Yoga, has made various experiments of yogic practice on her own body to embody those teachings with integrity. She has taught from regular drop-in class to private class, specialized workshop (Yoga Philosophy, Bhakti Yoga, Meditation and Pranayama), retreats and teacher training. She is also a well-known Kirtan leader with her background of classical music study for decades. She is as well a certified advanced theta healer and massage therapist with great understanding in energy, mind, and body work. She is the lead teacher for the training and will transmit the heartful and mindful practice, as well as teaching methodology and philosophy.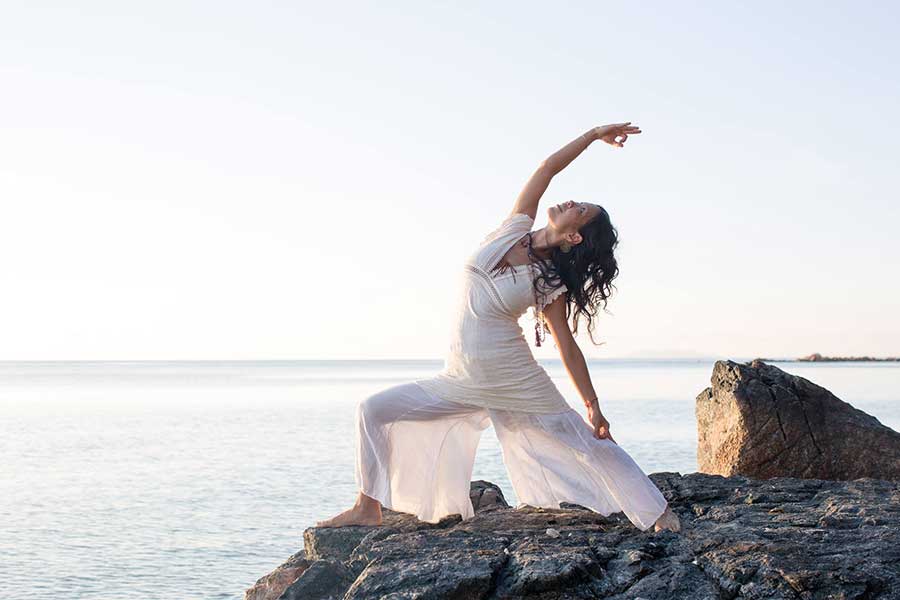 Viktoria Hartung
Yoga Alliance RYT 500 (Therapeutic Yoga, Hatha Yoga)
Crossing countries and never stopped yearning to understand reality, Viktoria learned from different masters, in different schools and universities and the Life itself. Born in Russia, grew up in Belarus and lived for more than 15 years in Western Europe, as well as for the last 4 years in Asia. Her journey has taken her through Christian, Shaman and Inca traditions, and finally brought her to Yoga and Meditation. A very deep led her from a life as a scientist in pharmaceutical research to a life of Yoga, living and working now in a community with an enthusiastic team of yogis, teachers and therapists. She is a fully qualified Therapeutic Yoga Instructor (500 hrs) and also works at Agama Healing Center. She has additional expertise in Ayurveda, AcroYoga, as well as Massage Practitioner (Deep Tissue, Thai and Flying Thai Massage). She is also a certified as a teacher Hatha Yoga, Traditional Tantra Yoga and Nadi Healing Touch. With the teaching of an Anatomy Module, Viktoria gives the understanding of our physical body as an amazing personal laboratory and beautiful complex structure together with a very practical approach for future teaching. Knowledges about Auyrveda would help you to understand the ancient principles of long and happy life and prevent disturbances of your physical body and helps being awesome every single day.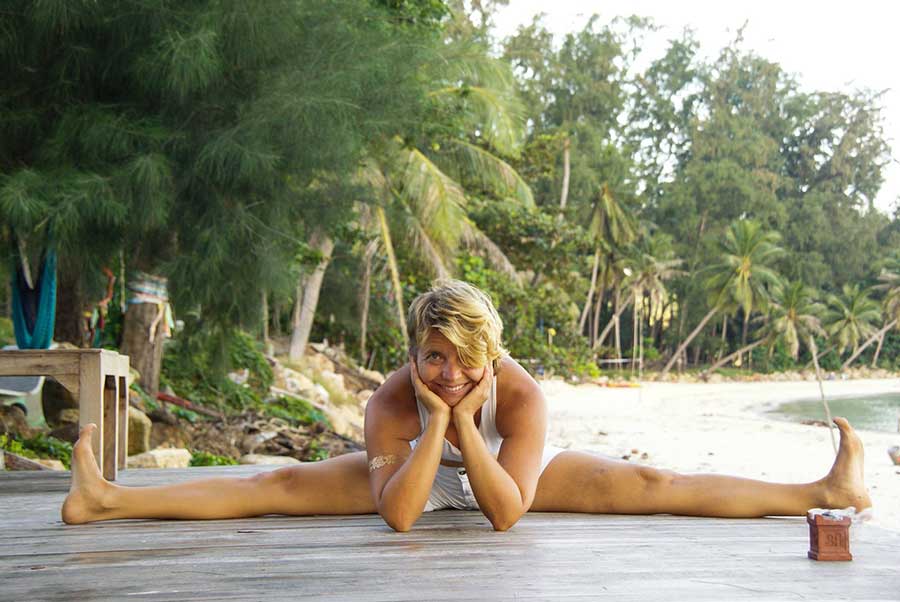 "In asana practice we learn to cherish each breath, to cherish every cell in our bodies. The time we spend on the mat is love in action" – Rolf Gates

Location
Serenity Residence – Haad Yao Beach – Koh Phangan Island – Thailand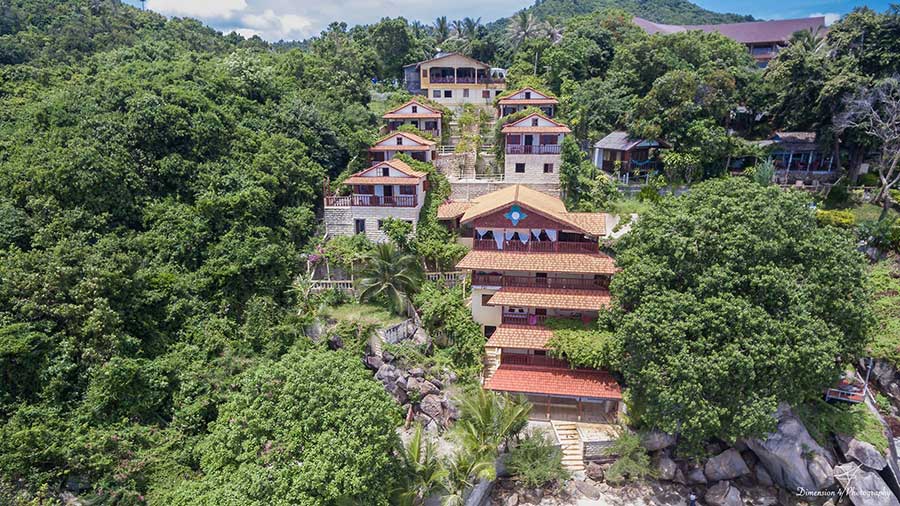 There is a place on Koh Phangan island where you can enjoy a truly unforgettable moment in an intimate setting. Thanks to French traditions and Thai hospitality at your service, the Serenity Residence offers a unique experience under the Asian sun.
Serenity Residence is situated in a cove, on the side of a hill, in the western part of Koh Phangan. The coral reef is very close, and Serenity is a wonderful place for easy diving with tropical fishes.
See on Map : https://goo.gl/maps/DBHo354d4RR2
Get Directions : https://goo.gl/EmeRtc
Fooding during the retreat
Every morning we will serve you a healthy and nutritious vegetarian breakfast buffet offering delicious locally grown fruit and vegetables, and a variety of yogi brunch options. we offer on buffet ,probiotic coconut milk yogurt ,muesli, 3 kind of french omelets, oats porridge, home made bread, home made butter, home made chocolate 90 pure cocoa, french vegetarian food, thai vegetarian food if you are vegan or gluten free you will find many choices on our buffet
During the last retreat our participants were delighted by the "do it yourself muesli" with all kinds of superfoods and our fantastic home made bread self toasted, chapatis and nann with delicious indian vegetarian sauces, home made delicious organic buckwheat flour galettes ,real crepes and wonderfull french desserts, from Brittany and much more…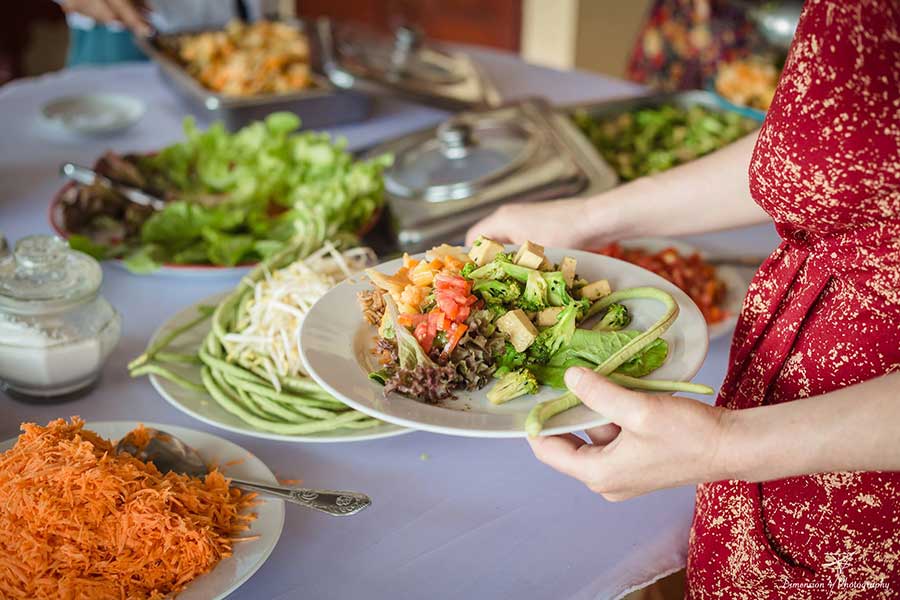 BREAKFAST : home made bread, home made probiotic coconut milk yogurt, home made butter, home made dairy milk, yogurt, muesli, cold oats porridge, set of 3 differents omelets, green organic salads plates of fruits, for people that are gluten free, buckweat galettes from Brittany french crepes one time or 2 a week, ginger/turmeric tea, minth tea set of different teas in self service.
LUNCH : different types of vegetarian food free of MSG, and any chemical sauces.. french vegetarian dishes sometimes as delicious ratatouille, our famous lentils some nice desserts as large crème brulee very famous too home made chocolate 90 per cent pure cocoa ..
DINNER same type than lunch ,PLUS, delicious different types of soup as well as our famous pumpkin soup,
As it is a free self service buffet everything is included as well as the drinks,teas,coffe, fresh water
This island is magical and so powerful! It can totally transform your life.
If you're not sure what to do during your holidays – i would love if you consider joining us during our PARADISE YOGA RETREAT at serenity yoga residence on the Koh Phangan and experience her magic yourself. I promise you it will be an experience you will never forget and for sure not regret!
Prices

Early bird 10% discount until 15/12/17
2600€ All included full board
Single Room / Training / Food
[Early bird] : 2340€ – Deposit : 700€
2450€ All included full board
Shared Room / Training / Food
[Early bird] : 2205€ – Deposit : 700€
2350€ All included full board
Dormitory / Training / Food
[Early bird] : 2115€ – Deposit : 700€
COUPLES DISCOUNTS
4900€ All included full board / 2 Trainings
Discount -35% : 3185€ – deposit 700€
3000€ All included full board
1 Training + 1 Staying (550€)
[Early bird] : 2755€ – Deposit 700€
The package is full-board and includes training, room and meals. We can host 19 students at Serenity with a choice of shared rooms or double rooms. We also have dormitory accommodation, one for men and one for women, with 15 beds in each. If we are fully booked, we will arrange for accommodation in a hotel nearby Serenity. Book quickly to avoid disappointment.
APPLY NOW
How to make your Reservation and Payment ?
Check out our USER GUIDE
"Here and now is where yoga begins" – Yoga Sutra
Join us on Facebook